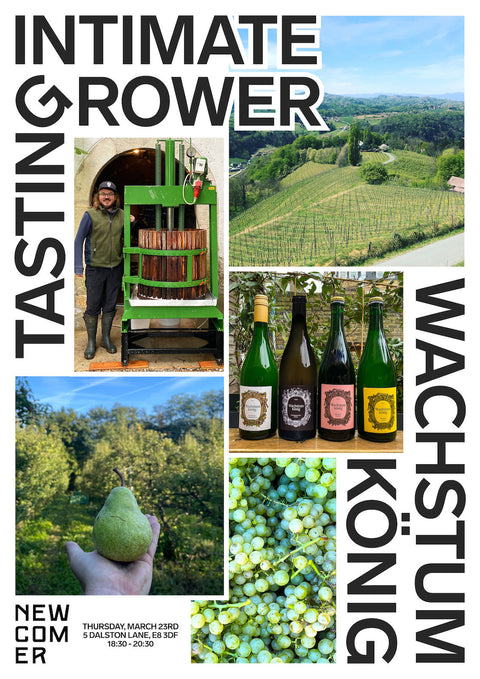 Newcomer Wines presents
Wachstum König Tasting
Event Details
Join Wachstum König for a two-hour guided tasting in the Newcomer Wines bar. We'll be pouring a selection of his still wines, sparkling fruit pét-nats and low intervention fruit juices! We're keeping it intimate with only 10 tickets available so you'll be able to connect, ask questions, and taste together. 
Tickets include wine, snacks, cheese and charcuterie.  
Date

Thursday, 23rd March 2023, 18:30-20:30
Location

Newcomer Wines Dalston

5 Dalston Lane
E8 3DF, London (UK)
About Wachstum König

Brothers Herbert and Karl- Heinz, along with their mother Anni are on a mission to re-establish their century old family project — Wachstum König. Started by their grandfather, an orchard fruit pioneer, and later run by their father, who focused on the vineyards and fruit fields until his passing in the 1990s.

Before returning to the family farm, both Herbert and Karl-Heinz acquired a rich resume of experience. While Herbert studied a degree in viticulture, he cut his teeth with one of Styria's largest and most historic wineries. In recent years he founded and (to this day) runs 'Laufke' restaurant together with two friends in the heart of Styria's capital Graz. Karl-Heinz' learning focused more on the aspects of general agriculture and in particular fruit growing which led him to pursue a masters degree at 'Silberberg' college.

We love the still wines just as much as their low intervention fruit juices, which are neither pasteurised, filtered or sulphured, and are made from old heritage varieties of pear, quince and cherry. We found them comparable to serious terroir- driven wines — a first to us and we think a new dimension for the context of non-alcoholic pairings.


Note: Ticket Refund and Name Change

Please note that we will not be able to refund purchased tickets however they are transferrable to other guests.