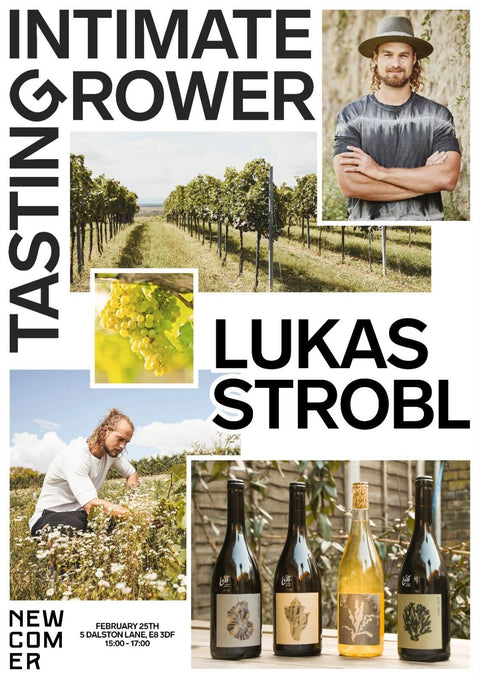 Newcomer Wines presents
Lukas Strobl Tasting
Event Details
Join Lukas Strobl for a two-hour guided tasting in our Newcomer Winebar. We'll deep dive into the Strobl collection, opening his new releases as well as a few other surprise gems! And with only 10 tickets available, you'll be able to ask questions, chat all things Strobl winemaking and walk away with both a connection to the wines and the winemaker himself. 
Tickets include wine, snacks, cheese and charcuterie.  
Date

Saturday, 25th February 2023, 15:00-17:00
Location

Newcomer Wines Dalston

5 Dalston Lane
E8 3DF, London (UK)
About Lukas Strobl

"A family business in the second generation. Uncomplicated and not committed to any tradition. Experimentation and curiosity. With passion and enthusiasm. Handwork. Sustainability and respect for nature. Only own grape material from 37 small plots. Hand selection. Just our vineyards and us. Bio-economy: sustainable and diverse. Leave nature as it is. Mixed culture. Interim vegetation. Water surfaces. Because it's good. Support nature, just let it be. It's wild at the vineyard. Buzzing, chirping, growing, proliferating. Life. Because this earth is precious. "
- Strobl Family
Note: Ticket Refund and Name Change

Please note that we will not be able to refund purchased tickets however they are transferrable to other guests.